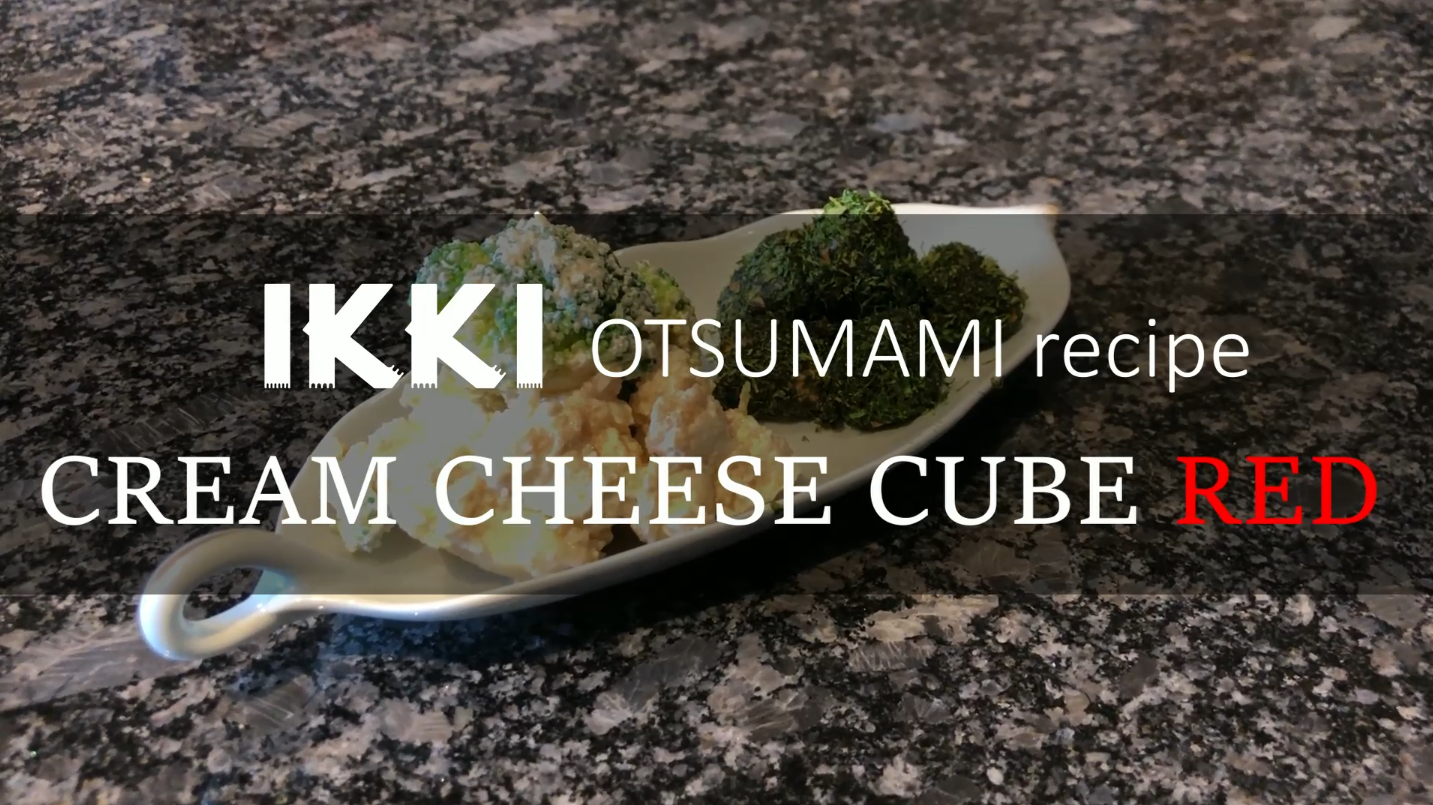 [ikki OTSUMAMI recipe] Cream Cheese Cube Red / cream cheese meet Japanese Sake / quick Otsumami innovation

 OTSUMAMI is one of the important elements in Japanese Sake and food culture. OTSUMAMI is a small dish like finger food or appetizer which people enjoy with Sake. Some people enjoy OTSUMAMI before main dishes, but some do not order main dishes and order several OTSUMAMI to enjoy Japanese Sake.
 ikki delivers information about how to cook OTSUMAMI in Japanese way through our YouTube channel. Please refer to the video we upload and find the new OTSUMAMI recipe for Japanese Sake which collaborate with your own culture!
 As a second time, we posted OTSUMAMI recipe of Cream Cheese Cube RED. There is Cream Cheese Cube RED recipe as well, so please find from the link below;
[ikki OTSUMAMI recipe] Cream Cheese Cube GREEN / cream cheese meets Japanese Sake / green laver
Please check out the video and find the recipe below;
[ikki OTSUMAMI recipe] Cream Cheese Cube RED
Ingredients
Cream cheese 90g

Mayonnaise 1.5 spoon

Soy sauce 1 tea spoon

Lemon Juice 1 tea spoon

Mentaiko(spicy cod roe) 1/2

Broccoli 1/2
Recipe
Slice cream cheese in cube

Cut off the bottom of broccoli and slice in 1/2

Use 1/2 of broccoli and cut into florets

Wash the broccoli and place into the plastic bowl

Microwave the broccoli at 600W for 1 minute

Cut cod roe in 1/2 and use only 1/2

Make a slit on the side and extract the eggs with the back of the knife

Put cod eggs, mayonnaise, soy sauce and lemon juice into the bow

Mix the ingredients

Put broccoli and sliced cheese into the same bowl

Mix them together