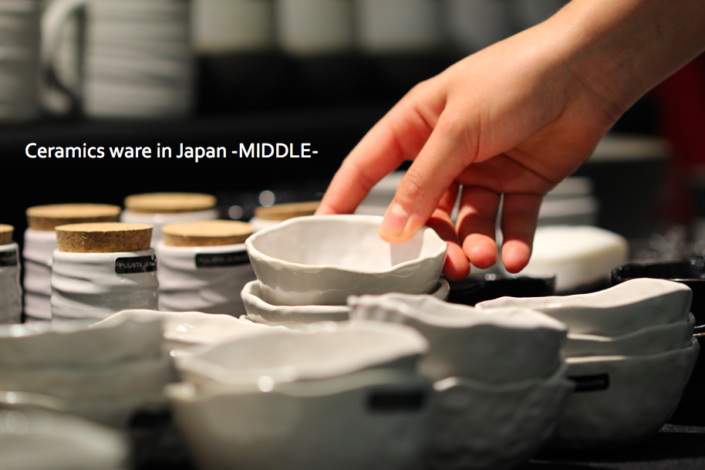 Serving
Ceramics ware in Japan -Middle Japan-
******
Ceramics ware in Japan is separated in 4 articles, please go to the article from the link below 
Ceramics ware in Japan -East Japan-
Ceramics ware in Japan -West Japan-
Ceramics ware in Japan -South Japan-
******
What do you enjoy Japanese Sake? Cups? Glasses? or Ceramics?
 These Days, people enjoy Japanese Sake in wine glasses more and more, but traditionally Japanese people have been enjoying Sake with ceramics ware. It is depending on the type of Sake to choose vessels to enjoy with, but especially with Jukushu 熟酒 style Sake you can enjoy more to feel Japan and the locality. Some of the Sake lover even choose and match where Sake and ceramics made in.
 This time ikki deliver information about famous ceramics where in Japan, focusing on Middle of Japan this time.
Famous production area of ceramics ware Middle
There are 28 places where have their own production method and originality in ceramics. In Middle of Japan, (Aichi, Gifu, Kyoto, Shiga, Mie) there are 8 places as below;
Gifu Prefecture
Mino Yaki 美濃焼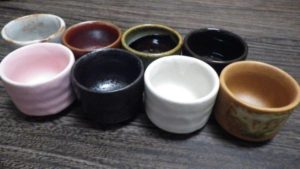 Mino Yaki is from Gifu prefecture and have both pottery and porcelain. The feature of Mino Yaki ia a variety. Their technique is very wide as they bake with a turner or hand craft or any method is implemented.
Shibukusa Yaki 渋草焼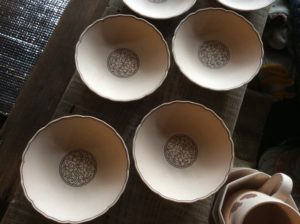 Shibukusa Yaki is a porcelain in Gifu. When they bake the Shibukusa stone it get slightly blue, and they put so-called "Shibukusa Akae"(渋草赤江) the petter on the porcelain and original taste in design.
Aichi Prefecture
Tokoname Yaki 常滑焼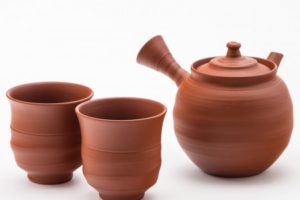 It is one of 6 old kiln in Japan, and registered as Japan heritage in 2017. Tokoname Yaki is produced in Aichi, and the feature is red color from the ingredients which is red mad in Tokoname area. Famous for Kyusu(Tea pot).
Seto Yaki 瀬戸焼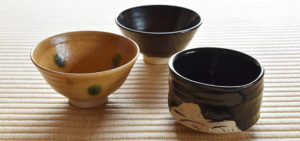 Seto Yaki from Aichi, is very old products and have a history since stone age. The feature of Seto Yaki is a use of a glaze. There are variety of glazing materials and the design is very simple.
Mie Prefecture
Banko Yaki 萬古焼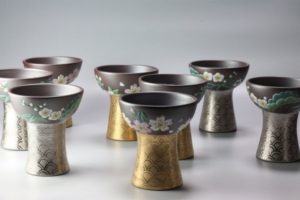 Banko Yaki from Mie, bakes the products which use daily like plates or artistic vaze from the old time. They traditionally use Shidei 紫泥(Purple mad) as a ingredient, but also mix them with petalite. So, it is strong and dense.
Iga Yaki 伊賀焼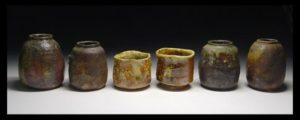 Shiga Prefecture
Shigaraki Yaki 信楽焼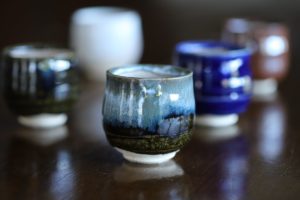 Famous kilns in Shiga. They have both pottery and porcelain, and porcelain is smooth like Arita Yaki or Seto Yaki, but pottery has more genuine and masculine. The mad here contains feldspar and only kiln suitable for big products.
Kyoto Prefecture
Kyo Yaki 京焼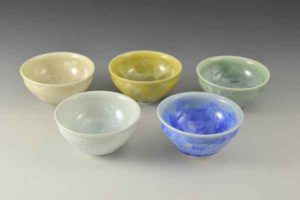 Kyo Yaki is a general term to call the group of Awataguchi Yaki, Omuro Yaki and Kiyomizu Yaki from Kyoto. Most of people imagine Kiyomizu Yaki from Kyo Yaki. Kyo Yaki is the first kiln to put red color on the surface. This red color makes people feel warm and beautiful.
Hope you learn!
See you in the next article!