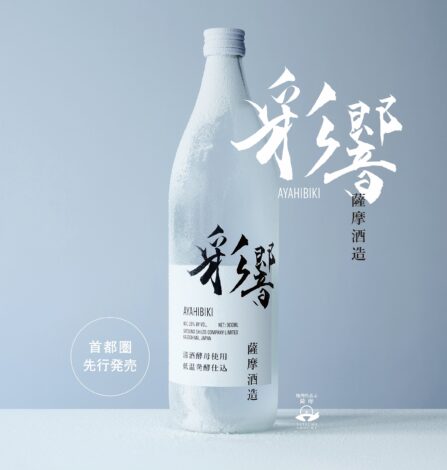 Press
Unprecedented fresh cooling sensation! Honkaku Shochu Ayahibiki (彩響) is launched on 1 August. Combination of Ginjo (吟醸) scents and fresh green apple scents overturns the concept of Imo Shochu.

Satsuma Shuzo Co., Ltd. (Representative: Aiichiro Honbo, HQ: Makurazaki City, Kagoshima) pre-launches Ayahibiki (彩響) in the metropolitan areas, exclusively. Ayahibiki is an innovative Honkaku Shochu with an unprecedented fresh cooling sensation and fresh green-apple-like scents born from the distillery's long lasting production technics.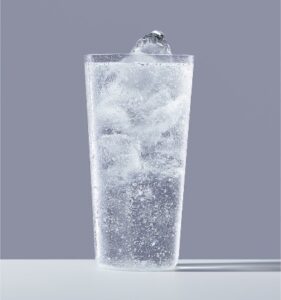 Innovative Imo Shochu with an ultimate cooling sensation
During the product development period, focus was placed on the ultimately fresh cooling sensations. Th goal was set to provide 1.) unique scents that give powerful impressions of freshness and coolness, and 2.) sharp character that goes extremely well with sparkling water. The distiller's endeavor to develop gin was started in 2019. In other words, it took no less than 3 years to go through trials and errors to acquire the current flavours. Its turning point during the developmental journey to reach freshness, coolness and sharpness in the Honkaku Shochu was when the distillery discovered an idea of using kobo yeast for its product.
Dressed with Ginjo-ko, Imo Shochu Ayahibiki was born from an encounter with Sake kobo yeast
To achieve the characters we wished for, the distiller came to focus on kobo yeast as kobo yeast had a potential to dramatically change the quality of Honkaku Shochu. Using this game changer, numerous trials were made to reach clear refreshing scents which can be rarely found in the Imo Shochu category. Kobo yeast adds Ginjo-ko, fruity and floral scents to Honkaku Shochu. Kobo yeast, normally used for Sake production, was selected to make an innovative Honkaku Shochu with unique scents.
Low temperature fermentation to transform the concept of Satsuma Shochu
Generally speaking, minimizing the temperature of moromi fermentation is a key to optimize the characters of Sake kobo yeast.
 Warm climate was a bottleneck to use kobo yeast for the Shochu production. Kagoshima is located in the South of Japan, and enjoys a mild climate. To allow a low temperature fermentation in Kagoshima, the distillery decided to perform the distillation process exclusively in winter. Coldest days are selected for its distillation to maximize the charms of kobo yeast.
Like a green apple, the Shochu has additional fresh scents
  We recommend you enjoy the scents of Ayahibiki as a first step.
The Shochu has not only fruity Ginjo-ko acquired from Sake kobo yeast, it also emits green-apple like refreshing scents.
Customers will enjoy the double-layered scents uncommon to typical Imo Shochu.
Mixed with sparking water, freshness and scents stand out
  The best to experience the characters of Ayahibiki, is to mix with sparkling water.
Sparkling water even emphasizes the freshness of the sharp flavours. When being mixed with sparkling water, every pop can give green-apple like refreshing scents and pleasantly soothing throat touch.
■Product overview
・Product name    :Ayahibiki (彩響)
・Category     :Honkaku Shochu
・Alcohol     :25 degrees
・Bottle volume     :900ml
・Recommended list price : 1,397 yen (incl. tax)
・Sales locations: Pre-sale available in metropolitan areas (Tokyo, Kanagawa, Saitama, Chiba, Ibaraki, Tochigi and Yamanashi)     
・Ingredients: Sweet potatoes (of Kagoshima), Rice Koji (made from Japanese rice and white koji)
Packaging unit :6 bottles in a carton box
Size and weight: 81mm×81 mm ×290 mm, 1.32kg (1 bottle)
                             258 mm ×174 mm ×306 mm, 8.4kg (case)
・URL     : https://www.satsuma.co.jp/ayahibiki/
■Company overview
Company name   : Satsuma Shuzo Co., Ltd.
Representative   :President Aiichiro Honbo
Headquarter   : 26 Tategami-honmachi Makurazaki City, Kagoshima Pref.
Foundation    : 21 June 1936
Capital   : 217.35 million yen
No. of employees  :209
Industry    : Production, sales, import & export of alcoholic beverages, production and sales of soft drinks and juice, research & development and sales of agricultural products, and management of restaurants and other
Telephone   :(Representative) +81-993-72-1231
Official website   :https://www.satsuma.co.jp/
Official online store :https://shop.satsuma.co.jp/
Official Instagram :https://www.instagram.com/satsuma_shuzo/
https://prtimes.jp/main/html/rd/p/000000054.000031999.html