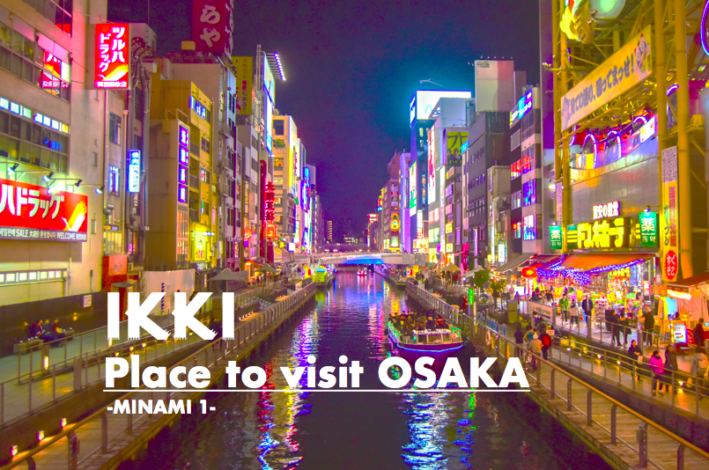 Japan
Place to visit for Japanese Sake business -OSAKA part1/Minami 1-
There are a lot of restaurants and bars which offer Japanese Sake in the world theses days and Sake lovers can enjoy paring foods of Japanese to their local culinary. I think there are many of you who is in Japanese Sake business out of Japan and offering fantastic menu to your customers.
On this page, ikki recommends the places to visit if you are in Japanese Sake industry when you come to Japan. There are many things to learn in Sake restaurant in Japan and you can bring back the concept or technique from Japanese local restaurants.
For the first time, ikki lists the restaurants or bars in Osaka, especially Shinsaibashi/Namba area; so-called MINMI area.
Please check the outlets below to visit!
MINAMI Area : Osaka
City center of Osaka is divided in 2 areas: Kita and Minami. Roughly speaking, Kita area is the area around Osaka Station and Minami is the area around Namba station.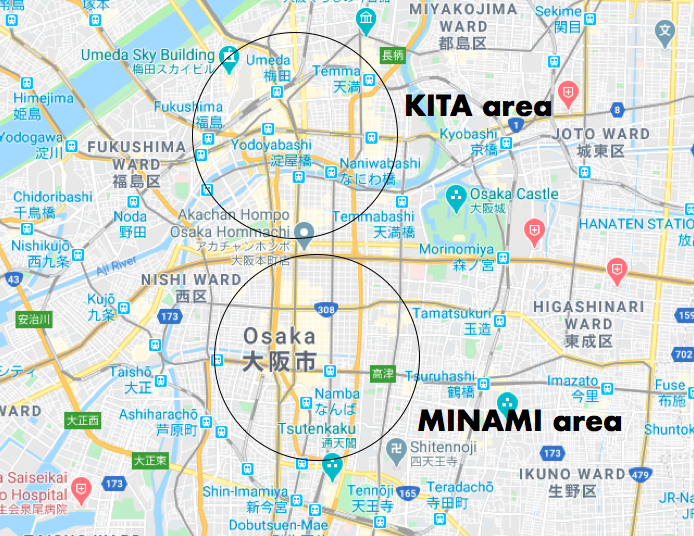 Minami had been a city center of Osaka for a long time, but due to the development of Shinkansen, Shin Osaka station and Osaka(Umeda) station and around Kita area becomes new city center of Osaka. If we describe in a short words, Minami is traditional and Kita is modern.  This traditional styles and culture is very famous and popular for foreign tourists nowadays, and the population density of Minami is extremely high in Minami now.(before corona) 
So in MINAMI area, there are many traditional restaurants and bars which you ca feel "Osakan" culture.
Please find the those information below;
Nihonshu Unagidani(日本酒うなぎだに)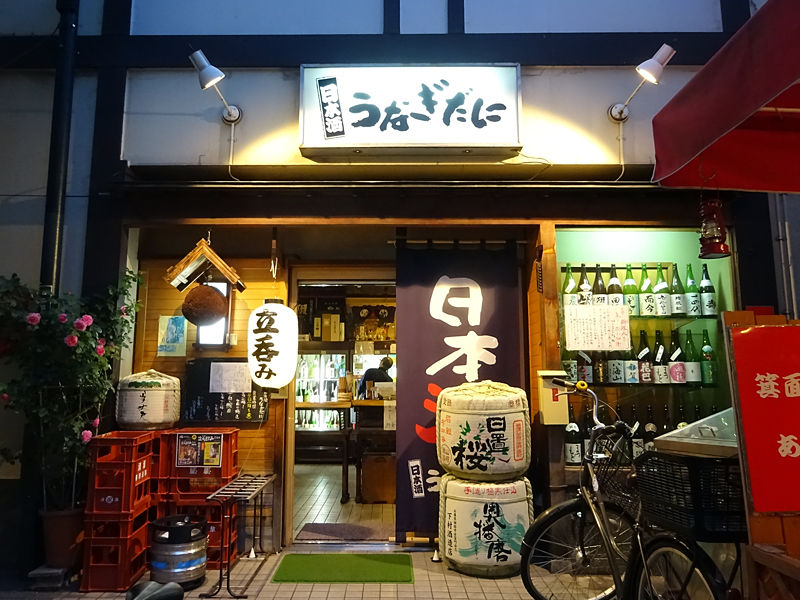 Step into the narrow lane in Unagidani street in Shinsaibashi Osaka,, you can find Nihonshu Unagidani at the end. Nihonshu Unagidani is a traditional and casual standing Sake bar and one of the cozy place for all the Jizake lovers.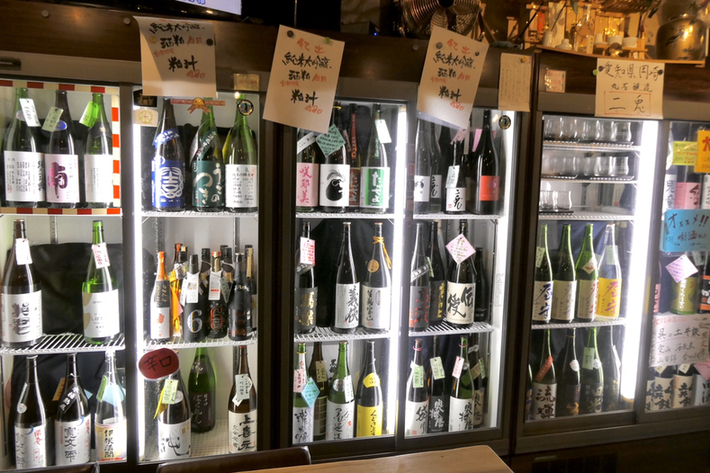 From the big fridge installed on the wall you can search and pick your preferred Sake and pour yourself. Brewers often visit the bar, so the knowledge level of the staff and master of the bar is quite high. If you would like to enjoy Sake with food, they can offer Otsumami(finger food) and they perfectly matches with Japanese Sake.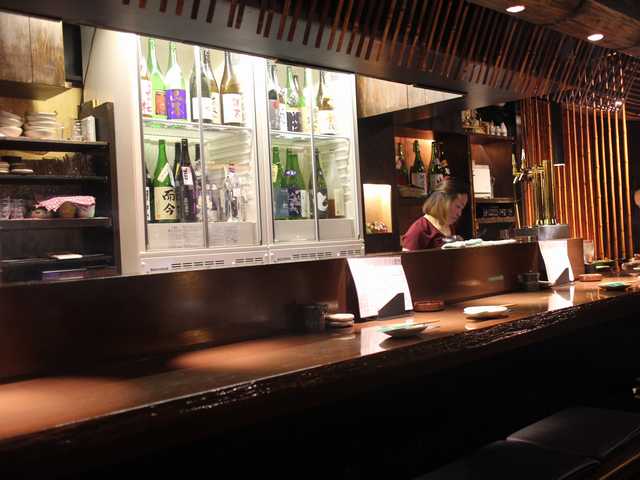 If you would like to enjoy more authentic food on the seat, there are branch called Unagidani Hanare which is 5 minutes away on foot serving Jizake and traditional Japanese cuisine. Depending on your purpose and feeling, you can choose the style of the restaurants or bars you enjoy Sake in Unagidani, or even switch the style easily.
Nihonshu Unagidani
Address: 1-3-28 Shinsaibashi-suji, Chuo-ku, Osaka(MAP)
Opening Hour: Monday-Thursday 15:00-24:00/Friday 15:00~26:00/Saturday 12:00~26:00/Sunday・Holiday 12:00~24:00
Tel: 050-5595-3981
Capacity: 50 seats
Unagidani Hanare
Address: 1-17-2, Higashi Shinsaibashi, Chuo-ku, Osaka(MAP)
Opening Hour: Monday-Saturday 17:00-29:00/Sunday 17:00~26:00
Tel: 050-5595-8130
Capacity: 21 seats
Maedaya(まえだ家)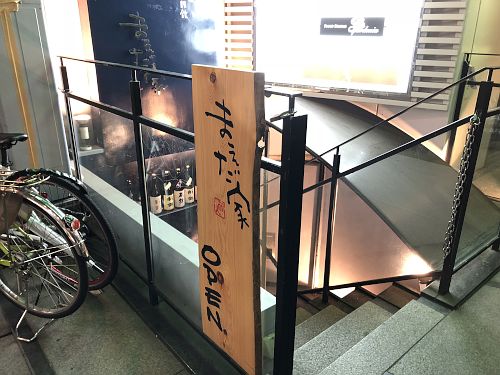 Maedaya is located in East of Shinasaibashi, and closed to Nihonshu Unagidani. It is a modern style Izakaya at the basement of the building. You can find the stair from the outside of the building.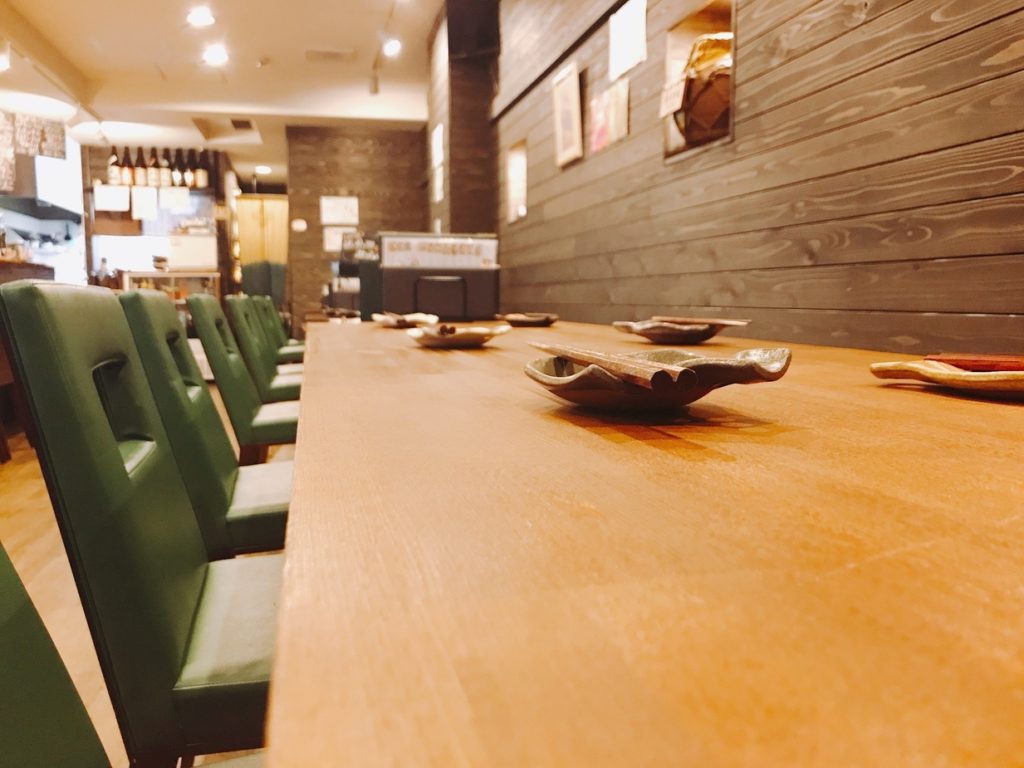 They select varieties of Jizake from all over Japan, but they also offers wine. Depending on the dish you enjoy they can recommend what kind of beverage matches with the dish.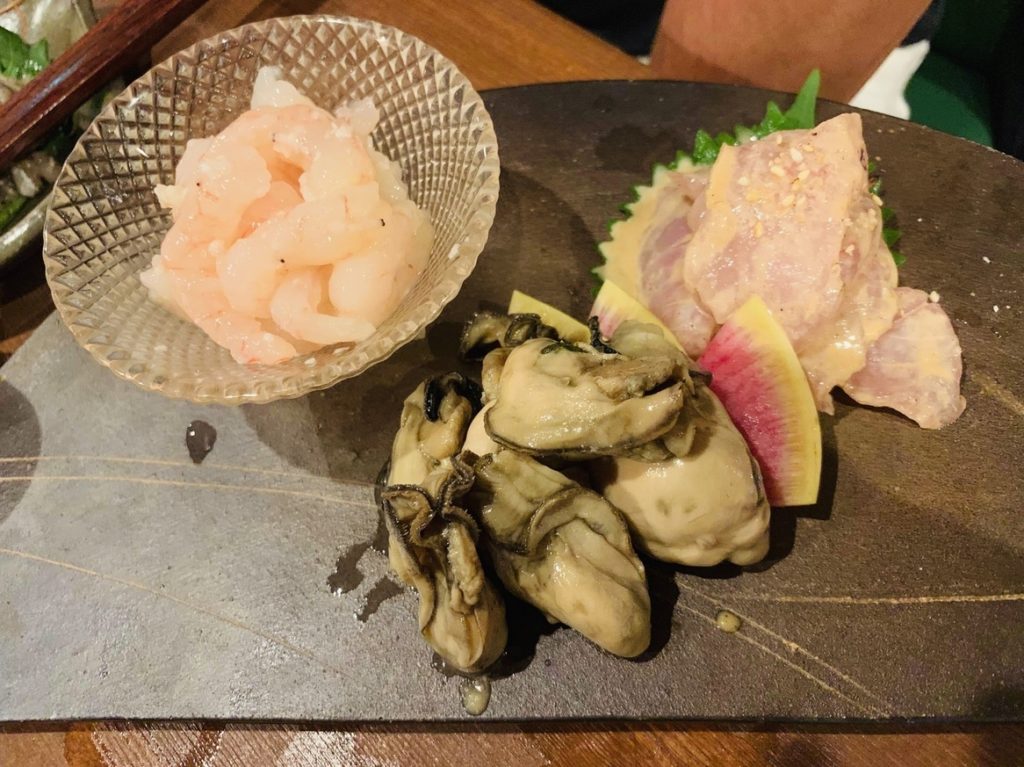 They mostly offers seafood dishes from raw Sashimi to grilles. Their cooking method is based on Japanese, but also have western influence, so you can find how to treat Japanese ingredients in the western style dishes.
Maedaya
Address: 1-12-19 Higashi Shinsaibashi, Chuo-ku, Osaka(MAP)
Opening Hour: Monday-Saturday 15:00-26:00/Sunday 15:00~24:00
Tel: 050-5594-0716
Capacity: 29 seats
Udon and Sake Karahori Kinugawa(饂飩とお酒 からほりきぬ川)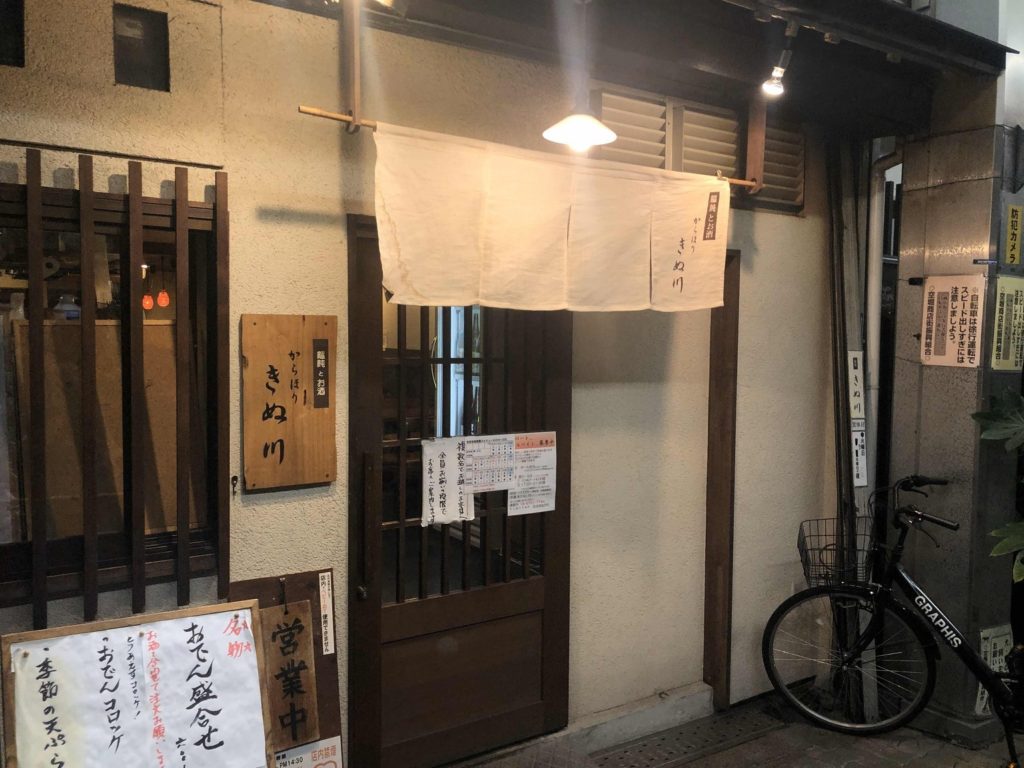 Kinugawa is located in the traditional shopping street called "Karahori Shotengai" where 5 minutes away from Tanimachi 6 Chome Station. Once you step into the street you can trip back to 1980's which the age is called Showa in Japan. The restaurant is perfectly matches with this atmosphere.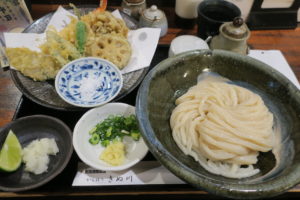 The main dish they offer is Udon, which is a noodle made of wheat, salt and water only. When you taste Udon, you choose either cold Udon with source to dip or hot Udon in the soup. They offer both of them and the basic stock used in source and soup called "Dashi" is made of Kombu seaweed and 5 different  bonito flake.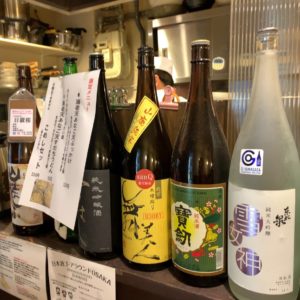 In addition to Udon, they have OTSUMAMI which you can enjoy with Sake. You can relax and stay in the restaurant and fully feel nice and old time of Japan and the world of Sake.
Udon and Sake Karahori Kinugawa
Address: 7-6-35 Tanimachi, Chuo-ku, Osaka(MAP)
Opening Hour: Weekday 11:20~14:00・17:30~20:30/Weekend 11:20~14:30・7:30~20:30 *Close on Monday dinner, Tuesday
Tel: 06-6761-7744
Capacity: 17 seats
Umasake Kamunabi(味酒かむなび)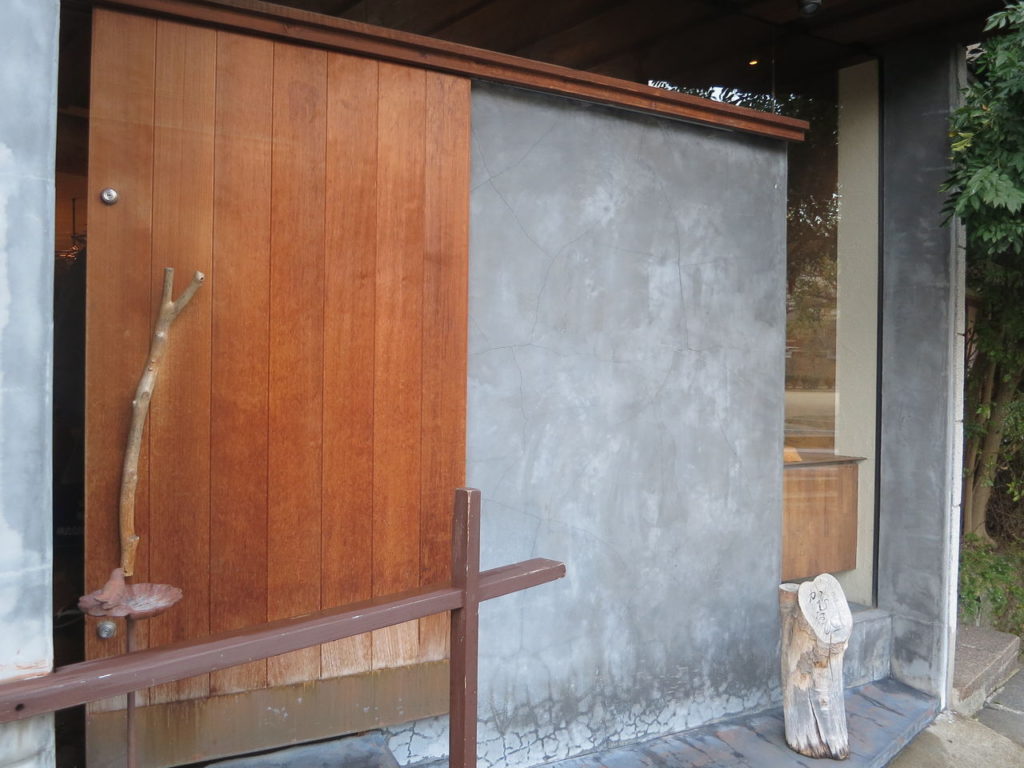 Kamunabi is like an hideout which is located in very local area in Osaka and far away from the stations. Nevertheless it is the restaurant hard to reserve the seats.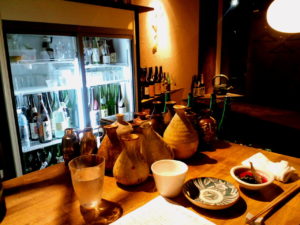 Once you step into the restaurant, you can feel the quality of food and service.  Sake lovers in Osaka gather at this place and share the peaceful Sake moment on the long wooden counter table.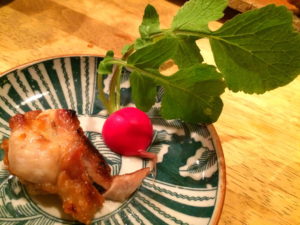 All the fine food in this outlet are perfectly matches with the selected Japanese Sake of the day, and there must be a lot to learn from their pairings.
Umasake Kamunabi
Address: 2-7-12 Kyuhoji-machi, Chuo-ku, Osaka(MAP)
Opening Hour: 18:00~23:00 *Close on Monday
Tel: 06-6765-0930
Capacity: 20 seats
Kurasshu(蔵朱)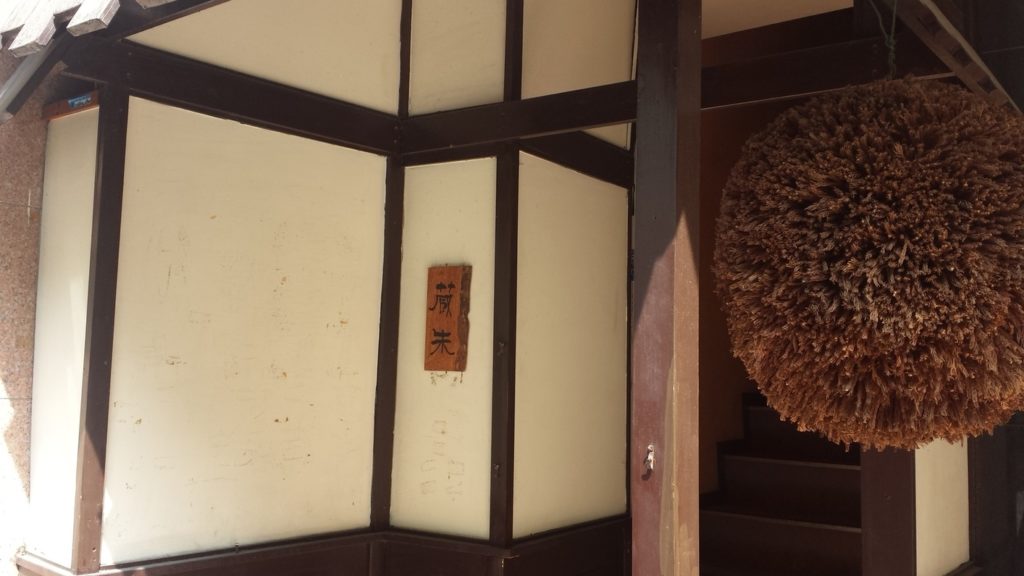 If you are a Sake lover in Osaka, you must know kurasshu. This is located in 10 minutes walk away from Sakaisuji Honmachi station and you can find cedar ball hung.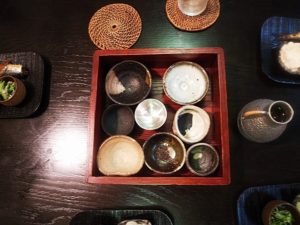 The selection of Japanese Sake in this restaurant is very rare. From the selection you can get to know the experience and relationship with wholesalers.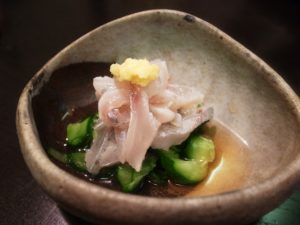 The food served in the restaurant is very open. They offer Sake pairing, but do not stick to Japanese cuisine only. For example, their Keema curry is very nice.
Kurasshu
Address: 2-3-1 Minami Shinmachi, Chuo-ku, Osaka(MAP)
Opening Hour: Monday-Saturday 17:30~23:00/Sunday 15:00~23:00 *Close on Wednesday
Tel: 06-6944-5377
Capacity: 10 seats
Benikurage(べにくらげ)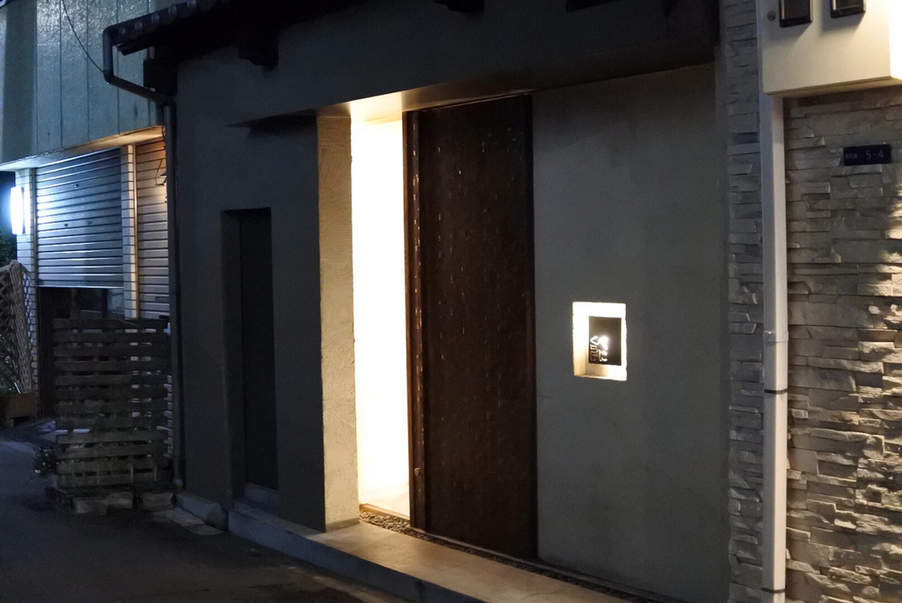 Benikurage is Japanese fine dining in Sakaisuji Honmachi. The simplicity and cleanliness is expressed in the front door of the restaurant.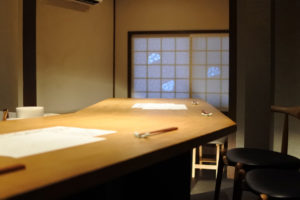 In this restaurant you can feel traditional, but also modern atmosphere. This restaurant is categorized as Kappou(割烹), which serves fine Japanese dining.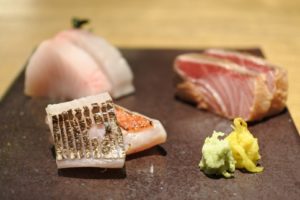 There are several courses you can choose and feel the artisan of Japanese food culture. Great place to escape from the busy cit life and relax and refresh.
Benikurage
Address: 5-4 Honmachibashi, Chuo-ku, Osaka(MAP)
Opening Hour: 18:00~24:00
Tel: 06-7710-2698
Capacity: 16 seats