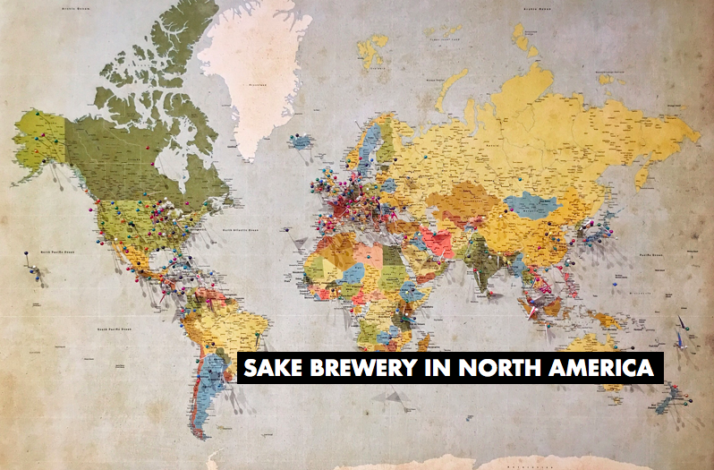 Sake
【Sake brewery in North America】Oversea breweries of Japanese Sake in North American continent

Japanese Sake is mainly brewed in Japan, and according to  G.I. Japan(please refer to the article of G.I.) those brewed in Japan can name Nihonshu 日本酒(Japanese Sake). Nevertheless, as Japanese Sake spread to the world there are breweries which brewed oversea.
This time, ikki deliver the brewery information about the brewery which brew oversea, and this time in .
Sake brew in America
At the moment there are 11 breweries in US, and 3 breweries in Canada in North America area, as ikki researched.
They all unique and expressing the locality and fusion with Japanese and their own culture.
United States
Moto-i
Representative brand: Moto-i
Moto-i is a ramen restaurant, but also sake brewery and bar at the same time. It is located in Minneapolis and offer Japanese Cuisine and Japanese Sake brewed in their outlet.
2940 Lyndale Ave S
Minneapolis, MN 55408
Arizona Sake LLC
Representative brand: Arizona Sake
Founded by Japanese man called Atsuo Sakurai. He had been working in Japanese Sake industry in Japan for 10 years before establishing the company.
86025 Holbrook, Arizona Navajo Blvd
SakeOne
Representative brand: G Sake
SakeOne is a Japanese Sake importer, but also brewer in Oregon. With the rice grown in Oregon, they brew Sake with maste brewer Takumi Kuwabara.
820 Elm Street, Forest Grove, Oregon
Sequoia Sake Company
Representative brand: Sequoia, Coastal
They open own Sake brewery to deliver fresh, live and accessible Sake in San Francisco. They have 2 brands which are Sequoia and Coastal.
50 Apparel Way, San Francisco, CA 94124
Tahoma Fuji Sake Brewing Company
Representative brand: Tahoma Fuji
Tahoma Fuji was established by Andy Neyens, who have been working in Fumigiku Shuzo, Toyama.
7353 12th Ave Nw Seattle, WA
Texas Sake Company
Representative Brand: Texas Sake
Texas Sake is found in 2011. They use their finest ingredients to brew Sake at the location of Texas in Texas Style.
5501 N Lamar Blvd, Austin, TX
Den Sake Brewery
Representative Brand: Den
Den Sake was found in 2017, quite new brewery in Oakland CA. Head brewer and co- founder Yoshihiro Sako brew their best Sake with local ingredients.
2311 Magnolia St. Oakland, CA 94607
Blue Current Brewery
Representative Brand:blue current
Blue Current is a brewery like garage craft Sake, like garage craft beer. Since 2015, they went out of the garage and brew their profissional Sake.
65 US Route One Bypass, Kittery, ME
Brooklyn Kura
Representative Brand: Brooklyn Kura
Brooklyn Kura is located in New York City to brew more accessible Sake in NY. They try their best to change the perception of American people about Japanese Sake.
68 34th Street Brooklyn, NY
Ben's Tune-up
Representative Brand: Ben's Sake
Ben's Tune-up is a beer garden, but Sake brewery. They are creating new tradition in US upon Japanese Sake history.
195 Hilliard Ave, Asheville, NC
https://www.bensamericansake.com/
Islander Sake Brewery
Representative Brand: Islander Sake
Islander Sake was re-established in 2018. It had been closed for a long period of time, but start their new history with Chiaki Takahashi now in Hawaii.
753 Queen St. Honolulu 96813
Canada
Artisan Sake Maker
Representative Brand: OSAKE
The brewery in Vancouver. their brand OSAKE is Canadian first brewed local Sake.
1339 Railspur Alley, Vancouver, BC V6H 4G9
https://www.artisansakemaker.com/
Ontario Spring Water Sake Company
Representative Brand:Izumi
Ontario Spring Water Sake is brewing Sake with traditional and historical Japanese Sake brewing method in Ontario. They get technical assistance from Miyasaka Jozo.
51 Gristmill Lane, Toronto, ON M5A 3C4
YK3 Sake Producer Inc.
Representative Brand: Yu
YK3 Sake brewing good quality sake in Richmond. The name YK3 is taking initials of the founders and master brewer, as their initials are all YK.
Unit 23, 11151 Horseshoe Way Richmond, BC V7A 4S5
Japanese Brewery in America
These breweries below is establishing breweries in USA and brewing Sake for domestic market. It is also another step up of Japanese Sake to be a world Sake.
Ozeki Sake USA Inc.
Gekkeikan Sake USA Inc.
Takara Sake USA Inc.
Yaegaki Corporation of USA
ikki is cheering Sake breweries outside Japan! Hope they will be categorised as New World Sake like New World Wine!
Thank you for your time and see you in the next article.