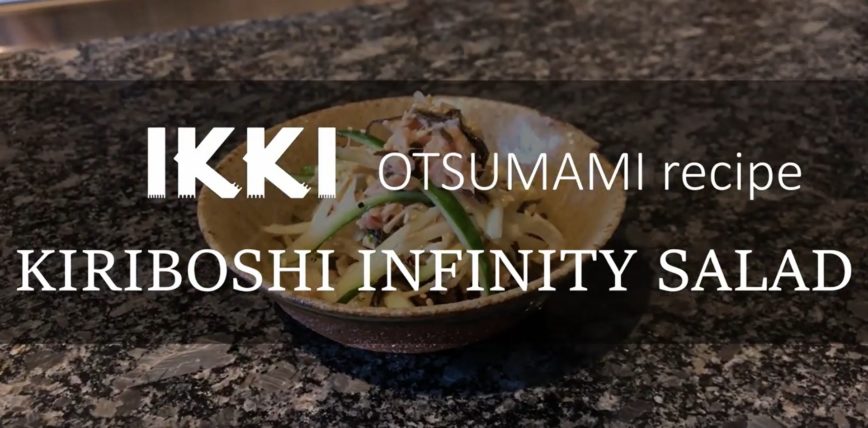 Serving
[ikki OTSUMAMI recipe] Kiriboshi Infinity Salad / quick Japanese recipe / Kiriboshi Daikon recipe / mix and serve easy recipe
 OTSUMAMI is one of the important elements in Japanese Sake and food culture. OTSUMAMI is a small dish like finger food or appetizer which people enjoy with Sake. Some people enjoy OTSUMAMI before main dishes, but some do not order main dishes and order several OTSUMAMI to enjoy Japanese Sake.
 ikki delivers information about how to cook OTSUMAMI in Japanese way through our YouTube channel. Please refer to the video we upload and find the new OTSUMAMI recipe for Japanese Sake which collaborate with your own culture!
 As a first time, we posted OTSUMAMI recipe of Kiriboshi Infinity Salad, using Kiriboshi Daikon.
You can also make a homemade KIRIBOSHI DAIKON yourself. Please find the recipe of it from the article linked below;
[ikki OTSUMAMI recipe] Kiriboshi Daikon / Japanese Traditional Ingredients / Homemade Japanese Cuisine Recipe
Please check out the video and find the recipe below;
[ikki OTSUMAMI recipe] KIRIBOSHI INFINITY SALAD
Ingredients
1 Cucumber -Kiriboshi Daikon 30g

Caned Tuna 70g

Black pepper 1 finger

Sesame Oil 1 spoon

Lemon Juice 1 spoon

Powdered chicken stock 1 spoon

Salted Seaweed(Kombu) 10g

(if you prefer, prepare white sesame to decorate on top)
Recipe
Wash Kiriboshi Daikon well

Cut off the head and bottom of cucumber and cut in 1/4

Slice the 1/4 cucumber with 1mm thickness twice, and repeat for all of the cucumber

Put washed Kiriboshi Daikon and sliced cucumber into the bowl

Add salted seaweed, lemon juice, powdered chicken stock, sesame oil, caned tuna and black pepper into the bowl

Mix the ingredients well, from the bottom of the bowl

Decorate on the plate 8. If you prefer decorate white sesame on top