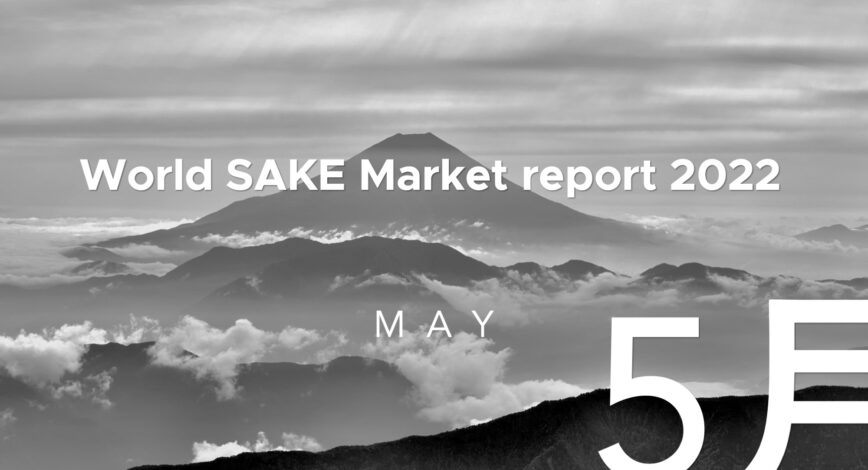 Japanese Sake market report May 2022
Please find the updating market report of the month. As the official data is available slightly late, this month ikki will deliver Japanese Sake market report of  March 2022.
To be precise, Sake on the data means exported products from Japan under HS code of 2206.00.
-Sake NEWS summary April 2022
-Total exported volume and value March 2022
-Exported amount by area March 2022
-Average FOB price March 2022

-Baltic Exchange Dry Index 2021-2022

-Exchange rate May 2022
Sake NEWS summary April 2022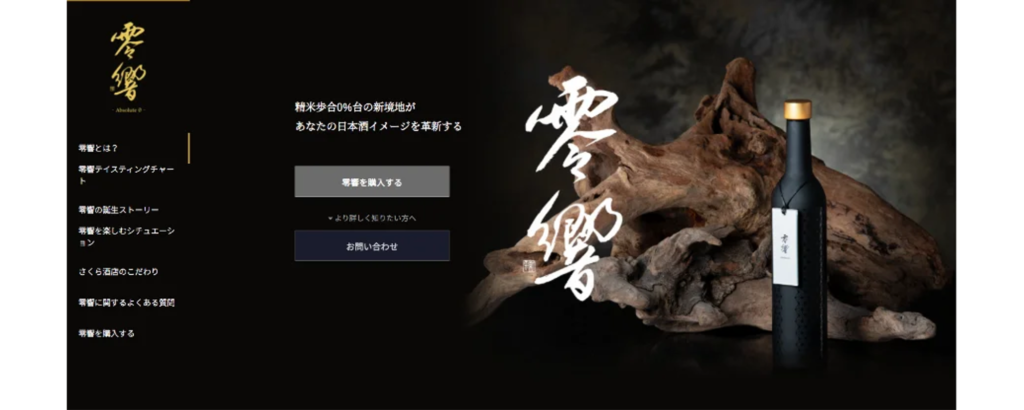 Sake with the polishing ratio at 0% "Reikyo -Absolute 0- "
Niizawa brewery produced Japanese Sake at the polishing ratio 0.85%, precisely, for 333 bottles limited. (Sakura Saketen)
Special website: https://sakurasaketen.com/lp/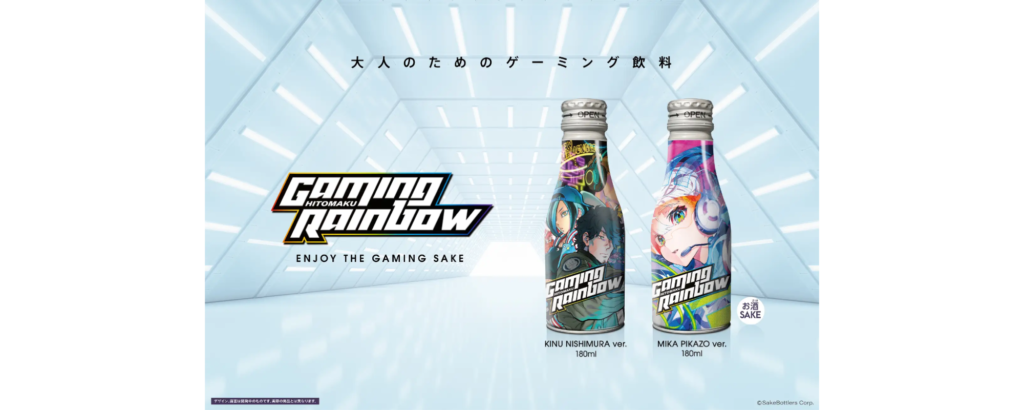 Gaming Sake "Gaming Rainbow"
Sake bottlers released Japanese Sake for gamers matches with Gaming scene, brewed by Tsuchida Shuzo (Sake bottlers)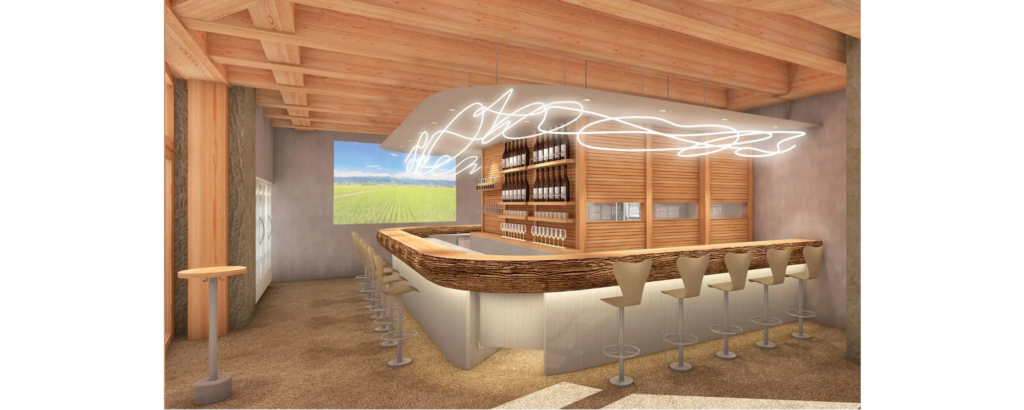 Doburoku brewery pub by Heiwa Shuzo
Heiwas Shuzo, the brewery awaeded Brewery of the year 2020, opens new brewery of Doburoku in Nihonbashi Tokyo, with a brewery pub style.(Heiwa Shuzo)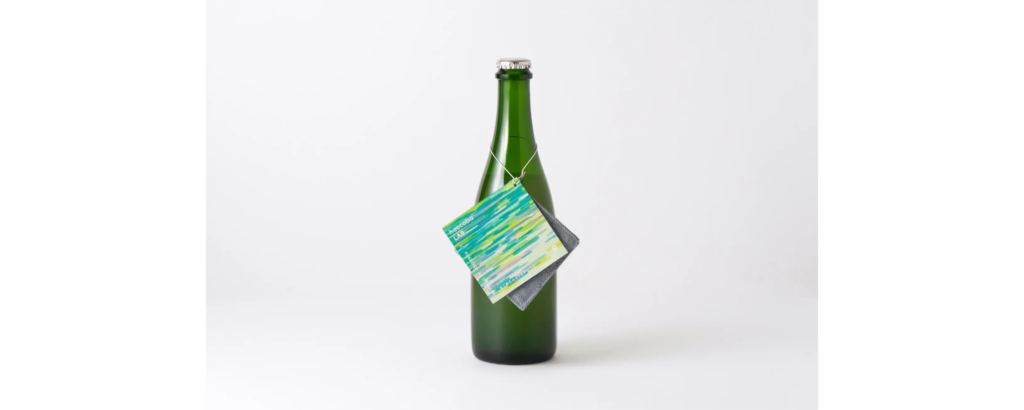 The fusion of Sake, wine and beer "Rice and grape and hop"
haccoba craft Sake brewery, aiming to achieve free style Sake craft, released new products "Rice and grape and hop" (haccoba)
(Ref. PR TIMES: https://prtimes.jp/)
Total exported volume and value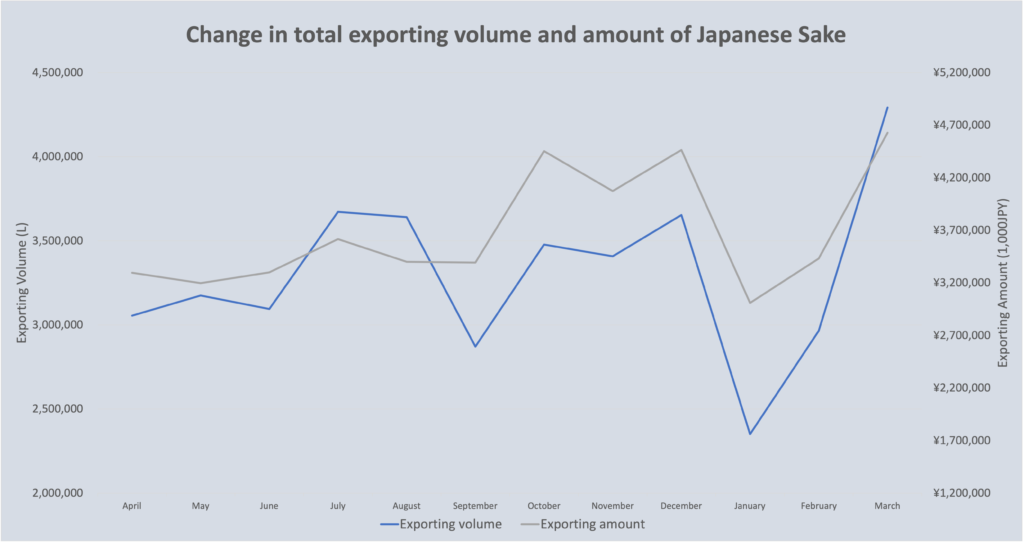 The Sake traded volume and amount grew rapidly on March. It is the time Sake trading coming back after new year holidays, both world and China according to the calendar, but it was relatively larger growth  comparing to the last year. 
Exported amount by area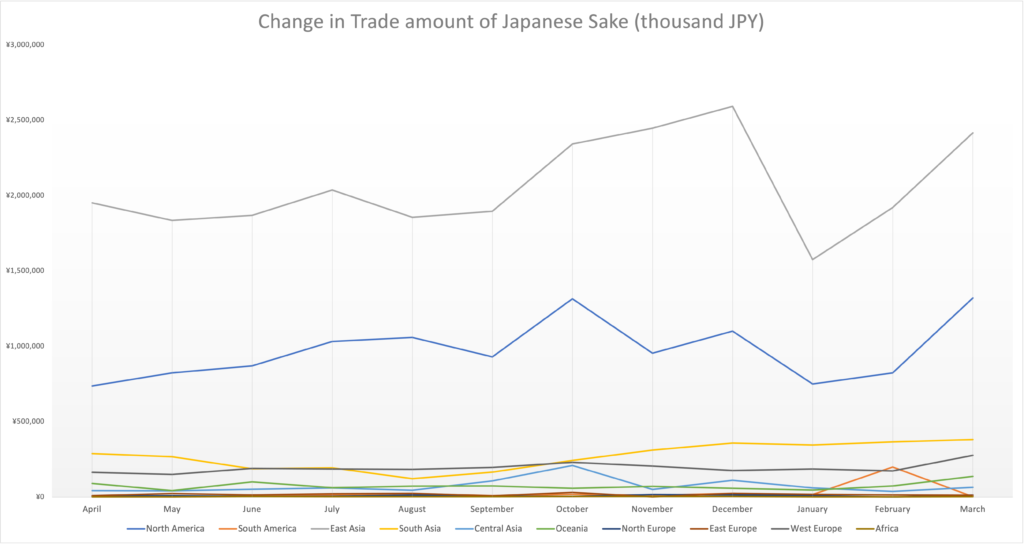 As you can see above, the areas with high trade value grew more. In today's situation, it may be difficult to pioneer new frontier, so it is predictable result that large area grows more. Nevertheless, it was not good in South America.
Average FOB price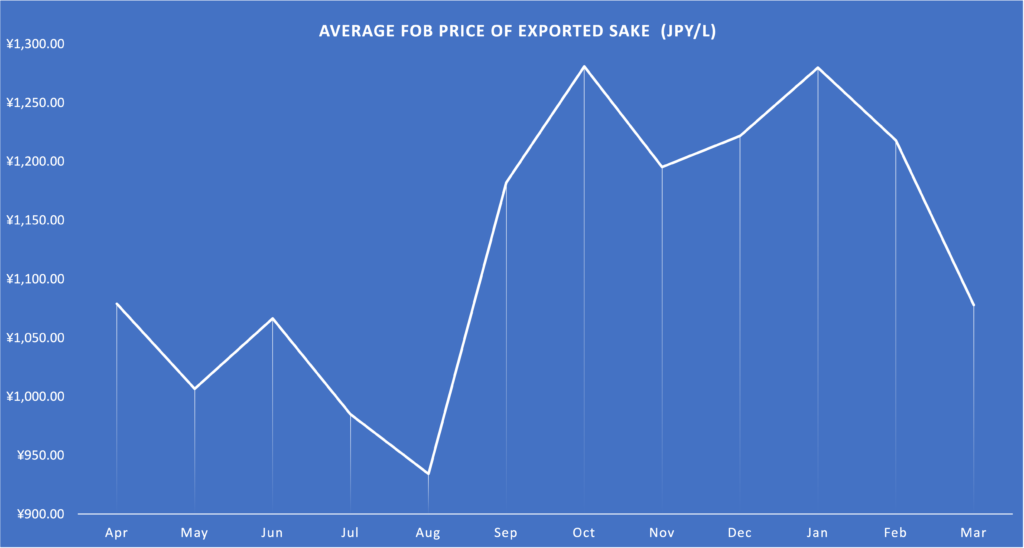 The average FOB price dropped largely. It got back to the level of the last year, on the words it did not go too low. Hope it goes up again towards Winter season.
Baltic Exchange Dry Index 2021-2022

  BDI stays. It should have upwards trend, but as Shanghai issue getting solved it ended up with steady.
Exchange rate JPY/USD.EUR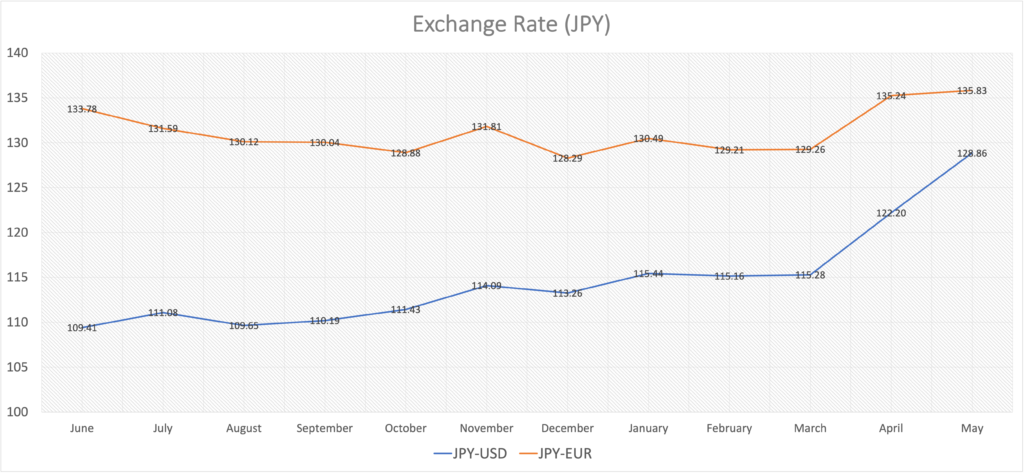 JPY is getting weaker and weaker these months. especially against USD. It is now stayed at around 130JPY/USD and still have a risk of a rise. Against EUR, it is relatively steady.