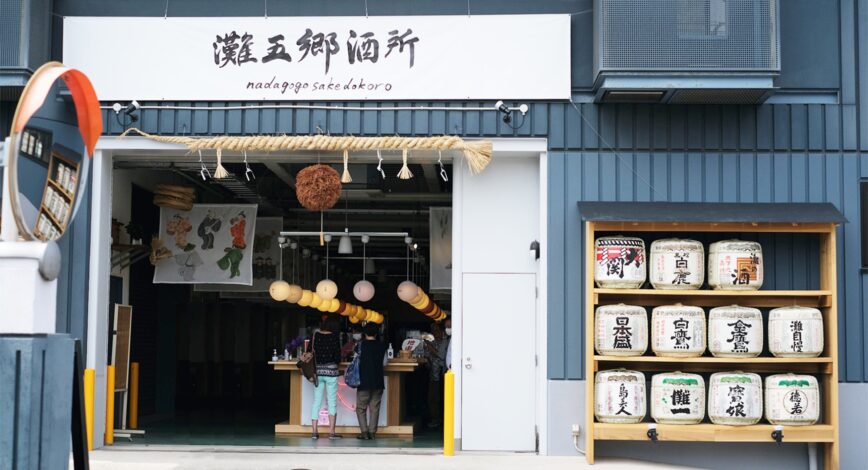 Serving
Nadagogo (灘五郷) – the land of Sake and where produces the largest volume
 Nadagogo, Nada five villages (灘五郷) is one of the important keywords to understand the world of Sake. Nadagogo stands for a collection of 5 different villages : Nishigo(西郷), Mikagego (御影郷), Uozakigo(魚崎郷), Nishinomiyago(西宮郷), and Imazugo(今津郷)  in Kobe City and Nishinomiya City of Hyogo Prefecture. The area is widely known as a production site for Nada-Sake. Sake fans often wish to pilgrim this sacred production area of Sake.
The beginning and progress of Sake production in Nada region

 From the written documents, it is said that the Sake production in Nada was started by Zakouya-Bunuemon (雑喉屋文右衛門), who moved from Itami to Nishinomiya to start local Sake production in Nada. Another history tells that Sake production had already been started around 1336, during the Muromachi Period.
 Despite the varieties in theories of when Nada Sake production was initiated, its development period was rather prominent. It is between 1655 and 1736, when there were a number of Sake breweries established in Nada region. It matches with the period of expansion in Sake production.
 Sawa-no-Tsuru, one of the major Sake breweries in Nada was established in 1717, for instanc
 Back in 1764, Kaminada (上灘), Shimonada (下灘), and Imazugo (今津郷) were playing the core role in Sake production in Nada area.
 In 1828, Kaminada was divided into three groups, Higashi-gumi, Naka-gumi, and Nishi-gumi. Uozaki in Higashi-gumi, Mikage in Naka-gumi, and Shinzaike and Oishi in Nishi-gumi became prominent producers. 3 gourps in Kaminada, Shimonada and Imazu developed into Nadagogo. Current cotoes of Imazu, Nishinomiya, Uozaki, Omikage and Seigo do not match the original area of Nadagogo.
 The production of Sake was rapidly expanded by 1853, around the late Edo Period. Consiquently, 80% of Sake consumed in Edo was supplied by breweries in Nada.
Designation as Japanese heritage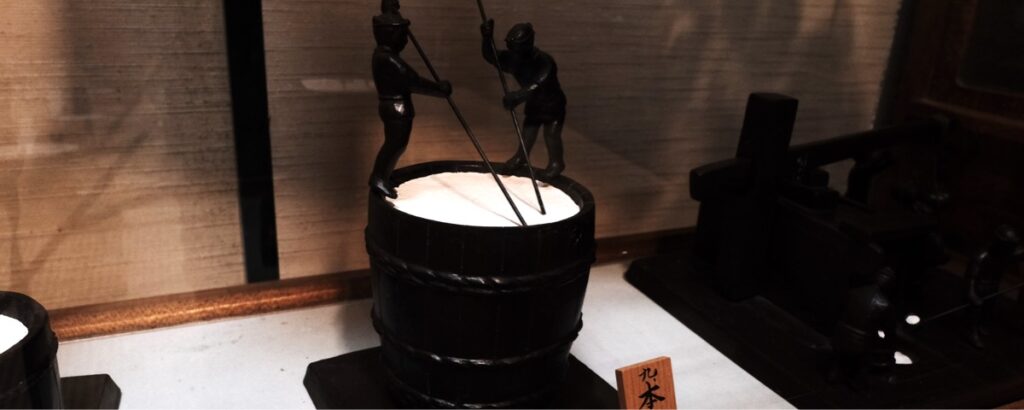 Heritage of Japan delivers an important message to introduce area's historical attractions,  as well as Japanese culture and tradition, which is designated by the Agency for Cultural Affairs.
 In June 2020, neighboring cities of Nada, namely Itami City, Kobe City, Nishinomiya City, Amazaki City, and Ashiya City were designated in 2018 as Itamishohaku, Nada-no-kiippon, a prestigious production spot, as well as Itami and Nadagogo.
 In other words, it was agreed that the stories on Nadagogo were important to thoroughly explain the Japanese culture and history.
 Nadagogo expects to draw more attention from the domestic and overseas after the recognition as Japan heritage
Why Nadagogo became prosperous Sake production sites

Ideal climate and landscapes
The word "Nada (灘)" used in Nadagogo and Nada-ward of Kobe City originally means, the area is home to such natural powerful wind as to prevent the sailings. Nadagogo optimized the use of the wind in a style called Kasane-gura (multiple-pilled brewery). Thus it was possible to preserve an environment where cold temperature creates the low temperature in winter, and relatively mild temperature in summer, which is suitable for Sake production. Surrounded by mountains and the sea, Nadagogo has environment for Kanzukuri (cold Sake making) which is essential for high-quality Sake production.
Spring with rich minerals
Miyamizu(宮水) , spring water of Mount Rokko Mountain, is rich in minerals and low in iron is ideal for Sake production. Minerals become nutrition for Kobo and Koji during the fermentation process of Sake-mai (酒米), therefore it is one of the essential essences of producing Sake with "kire", sharp clear tastes.
High-quality Sake-making rice, Yamadanishiki
Hyogo Prefecture produces the most suitable rice for Sake production, Yamadanishiki. The collaboration between rice producers and breweries contribute to the best production of Sake with Yamadanishiki.
Important spot for sea water transportation
Nadagogo faces Setonaikai, and has long been considered as an important hub for sea transportation. In the Edo period, shipment using Tarukaisen was largely utilized. Tarukaisen was equipped by taru (tonnor, bulk made of Sugi), therefore the aroma of Hinoki was transferred to Sake while being transported. Sake was aged during the transportation with nice Sugi aroma. These natural factors contributed in the enhanced reputation of Nadagogo during the mid to late Edo period. Sake from the West Japan to Edo was called Kudari-zake, downing Sake, as the West Japan was consider the upper position.
Labels produced in Nadagogo

Here are the list of Sake labels in each area of Nada-gogo:
Nishigo area  :Sawa-no-tsuru, Kimpai
Mikagego area :Hakutsuru(白鶴), Kikumasamune(菊正宗), Kenbishi(剣菱), Ebisukaho(戎面), Fukuju(福寿), Sensuke(仙介), Kosen(琥泉), Daikoku-masamune(大黒正宗)
Uozaki area  : Chiyodagura (千代田蔵), Shochikubai (松竹梅), Sakuramasamune (櫻正宗), Hamafukutsuru(浜福鶴)
Nishinomiya area  :Kintaka(金鷹), Nada-jiman(灘自慢), Kiichi(喜一), Hakushika (白鹿), Hakutaka(白鷹), Nihonsakari (日本盛), Nadaichi (灘一), Takaramusume(寶娘), Shimabijin(島美人), Tokuwaka (徳若)
Imazugo area :Ozeki (大関), Ogimasamune(扇正宗)
 In 2022, a promotional site to introduce Sake of Nadagogo, Nadagogo Sakedokoro (灘五郷酒所) opened at Omikage Station of the Hanshin Line. Breweries are often scattered across the region, and people find it hard to visit multiple wineries in a short time. At Nadagogo Sakedokoro, you can experience Sake of no less than 26 breweries at one site. It surely provides an easier and enjoyable opportunities to discover more of Nadagogo.

---
ikki is looking for a partner who can post your knowledge or activity on our media. If you are interested please contact us through CONTACT page.