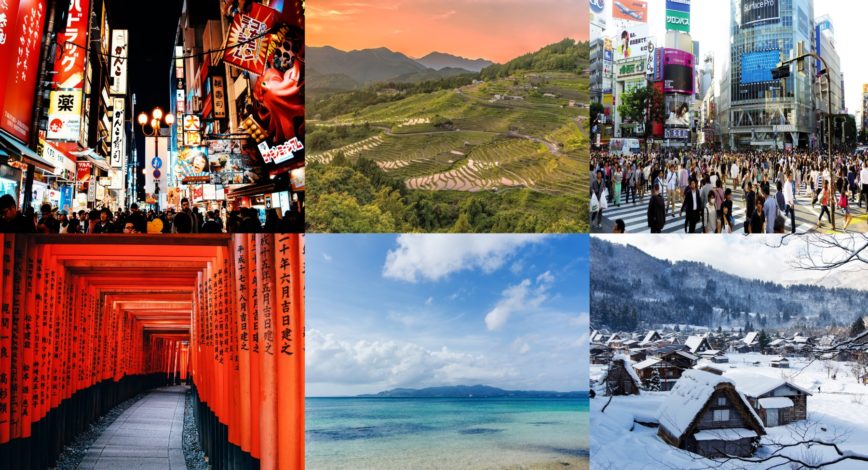 Regions and prefectures
Surrounded by sea, more than 70% occupied by mountains, long island from north to south, under these situations Japan has variety of climate by area and season.
In order to understand Japan, first required to know about geographical information.
Japan is divided into 47 prefectures and 8 regions. When we think about climates, we can divide Japan into 12 regions as below.
Hokkaido 北海道
Hokkaido has the region which has the largest area. On this vast land, farming acts large proportion in the economy.
Almost half of the year is winter and heavily snow. It is quite rare to be more than 30℃ in summer.
Prefectures: Hokkaido
Tohoku 東北
Ouu mountain range runs in the middle of Tohoku north to south, and most of the land is occupied by mountains area.
Winter season is long same as Hokkaido. Agriculture and fishing are popular and more than 25% of rice in Japan is coming from this area
Prefectures: Aomori, Akita, Iwate, Yamagata, Miyagi, Fukushima
North Kanto 北関東
Agricultural area, blessed with full of nature, located at north of Kanto plain
In addition to the agriculture, manufacturing is also popular and so-called North Kanto Industrial area
Prefectures: Ibaragi, Tochigi, Gunma, Saitama
South Kanto 南関東
Highest population density as you can tell that Tokyo, capital city is in this area. Suburb in west and city area in east is distinctive.
There is 10℃ difference in temperature at maximum throughout year
Prefectures: Chiba, Tokyo, Saitama
Chubu Hokuriku Koushin 中部北陸甲信
Mainly facing sea of Japan, separated from pacific sea area by Echigo mountain-region and Hida mountain range
winter season is quite severe, but as coast area is a plain an agriculture is popular and famous for rice production
Prefectures: Niigata, Toyama, Ishikawa, Fukui, Yamanashi, Nagano
Chubu Tokai 中部東海
Located almost center of Honshu island. Four seasons are distinctive; hot summer and heavy snow in winter
Typhoon often go through Mie in Autumn
Prefectures: Gifu, Aichi, Mie
Kinki 近畿
Sea of Japan at North and Pacific ocean at South. It has the biggest lake called Biwako, suppling plenty of water in the area
Nada Hyogo and Fushimi Kyoto are famous Sake brewing area
Prefectures: Shiga, Kyoto, Osaka, Hyogo, Nara, Wakayama
Chugoku 中国
2 distinctive area: industrial area along inland sea of Seto called "San Yo" and Agricultural area with ancient Izumo culture along sea of Japan called "San In"
Climate of San Yo is moderate and stable, but in San In it snows heavily in winter
Prefectures: Tottori, Shimane, Okayama, Hiroshima, Yamaguchi
Shikoku 四国
Like Chugoku, Northern inland sea of Seto area and Southern Pacific ocean area is different.
Stable northern climate and heavy rain and typhoon in South.
Prefectures: Kagawa, Tokushima, Ehime, Kochi
North Kyushu 北九州
Relatively warm throughout the year. There is an agricultural area around Tsukushi plain
Kyushu is famous for Shochu production, but brew Sake as well in this area especially in Ooita
Prefectures: Fukuoka, Saga, Nagasaki, Ooita
South Kyushu 南九州
South end of Honshu island. There are a lot of volcanos such as Kirishima volcano
Famous for hog raising, and shochu production using sweet potato grown in this area
Prefectures:  Kumamoto, Miyazaki, Kagoshima
Okinawa 沖縄
Isolated islands at south of Honshu, and have unique Ryukyu culture
What they can get from farming and fishing is unique. Famous for awamori using sugar cane grown in this island
Prefectures: Okinawa