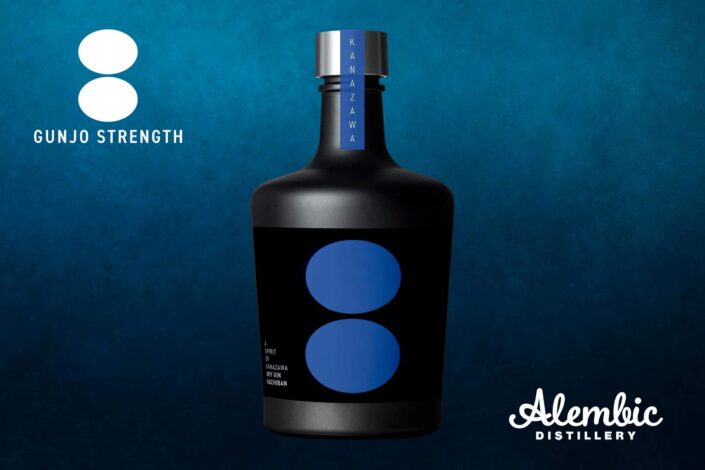 Press
Alembic, a distillery with multiple highest golden awards from the three world major competitions, sells one-year anniversary bottles. Barrel fermented series are also launched.

Alembic Ono Distillery is a distillery that has won double the greatest awards from the 3 major competitions of the distilled alcohol. It is operated by Alembic Co., Ltd (address: Ono-machi, Kanazawa City, Ishikawa Pref., Representative : Toshihiko Nakagawa). The company launches limited bottles on 8 August 2023 for its 1st year anniversary since the start of Alembic Gin HACHIBAN. A new item 'Alembic Gin HACHIBAN Barreled 2023' is also launched under the newly established barrel aging series.
Launch of Alembic Gin HACHIBAN Gunjo (ultramarine) Strength
To celebrate the start of the production of Alembic Gin HACHIBAN in August 2022, Alembic Gin HACHIBAN Gunjo Strength is newly launched. Alembic Gin HACHIBAN Gunjo Strength is made using the recipe of our main line product 'Alembic Gin HACHIBAN, providing a higher alcohol degree. Alembic Gin HACHIBAN Gunjo Strength is categorised under the Navy Strength gin (57-degree alcohol) which is originated from the British Navy.
◉About 'Alembic Gin HACHIBAN Gunjo (ultramarine) Strength'
The title of Navy Strength is given to the gin products above a certain alcoholic degree.
The alcohol degree of normal gin is approximately 40-47%. Navy strength gin, originated in the British navy of the 18th to the 19th century, is set to have a higher degree, approximately 57 to 58% (above 110 proof). Gin with a higher degree of alcohol can dissolve a larger amount of essential oil so that it comes to emit more powerful scents. These scents get prominent showing unique characters of the gin when used for cocktails.
The name and the ticket design of "Gunjo Blue" was created through the hints of Navy Blue originated from the uniform of the British navy, and Gunjo (ultramarine) colour which is considered to be local and traditional in Kanazawa. The colour is widely used for local shops and tea salons and loved by the Maeda family, a ruling family (clan) of the region.
◉Vegetal ingredients
Juniper berry, coriander seed, cocoa nib, lemon peel (fresh), orange peel, hydrangea, angelica root, cassia (hydrangea is originated at the foot of Mt. Haku, and lemon is from Kubi, Hiroshima)
◉ Preparation and base Water: Ground water of Mt. Haku.
・Volume:500ml/ABV:57%
・Availability: Limited to 800 bottles
・Sales channels: Reservation through the official online store
(URL: https://alembic.stores.jp)
・Start of reservation : 8 August 2023
・Delivery : End of September 2023 (estimated)
・Reference price: 6,500 yen (incl. tax)
Gold awards from the three major alcohol competitions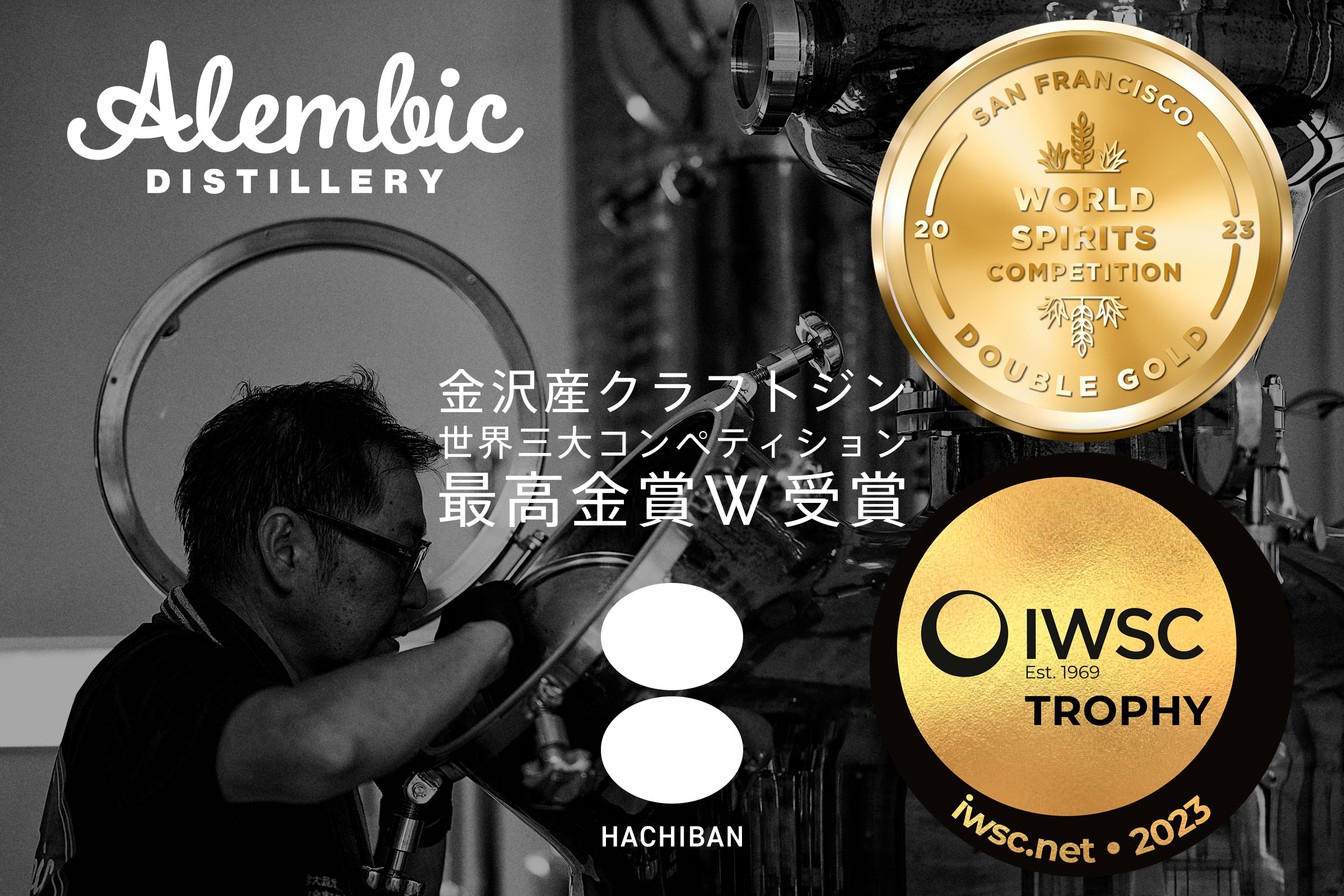 Alembic Gin HACHIBAN has won the greatest awards from the three major world competitions. No more than 1 year after the starting of production, it won Trophy in the Contemporary Gin category of the International Wine and Spirit Competition 2023, as well as Double Gold at the San Francisco World Spirits Competition 2023.
IWSC 2023: Gold Outstanding
IWSC 2023: Trophy for Contemporary Gin Category
SFWSC 2023: Double Gold
Alembic Ono Distillation Site
  Alembic Ono Distillation Site was built in Ono machi in 2019, which was full of miso and soy sauce brewers, with buildings having historical façade of Kitamaebune. After 3 years of preparation, the distillation was finally started in August 2022.
  Alembic has always strived to produce gin that creates a great harmony with and even enlarges the charms of the cuisines. We are produd that Kanawaza with its rich nature and culinary culture can produce spirits to attract the world-wide audiences.
Overview of Alembic Co., Ltd
Company name: Alembic Co., Ltd
Address: 4-ha-17, Onomachi, Kanazawa-City, Ishikawa Pref. 920-0331
Representative: Toshihiko Nakagawa (Representative Director)
Foundation: June 2019
Business: Production and sales of distilled alcohol, and store operation
https://prtimes.jp/main/html/rd/p/000000006.000119059.html